Our Mission: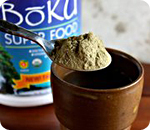 Super Food for Soldiers is a campaign developed and managed by The Consumer Wellness Center, a 501C non- profit organization and Boku International. Both proud American organizations. For every purchase of Boku Superfood you make (through select online retailers), a portion of that purchase will be used to send Boku Superfood to the men and woman of the U.S. Military, both at home and on the front lines.
Boku and the Consumer Wellness Center believe very strongly that Boku Superfood should be an essential component of every persons dietary protocol, especially our soldiers who need it the most!
What is Boku?
Boku International markets a line of award winning super food products that feature the most nutrient dense, health forming ingredients on earth. All Boku products are USDA certified Organic, Kosher and Vegan.
Boku International's flag ship product is Boku Super Food which is a proprietary blend of over 40 of the most potent foods on the planet, in a powdered blend that mixes easily in water, juice or any liquid, for a quick and easy flood of intense nutrition. The blend contains, land vegetables, sea vegetables, super fruits and medicinal mushrooms. Vitamins, minerals, probiotics, antioxidants, enzymes… all from the most intense, health forming plants on earth. There is more nutrition in one tablespoon of Boku Super Food than the average person will consume in several days. This is vital food for immunity, focus, performance, endurance and overall wellness.
They also have an amazing protein powder that is certified Organic, Vegan and Kosher. Boku Super protein is whey, dairy, soy and Gluten free. It delivers a whopping 25 grams of protein per serving derived from sprouted brown rice, cranberry and Red Dulse. The protein has an amino acid profile almost identical to human breast milk!
Lastly, Boku has a 68 gram Boku Super Food Bar – a delicious chocolate fudge brownie for an incredibly powerful and nutritious punch on the go. The bar provides 15 grams of protein and 11 grams of fiber. A complete, nutritionally potent meal in a delicious and convenient food bar.


"Getting premium nutrition into the hands of our front-line soldiers is one of the most patriotic things we can do. Superfoods can help our soldiers endure stress, increase performance and heal from injuries. I am honored to be part of this mission to help supplement our soldiers with superfoods that can help them win battles and end wars."
- Mike Adams, the Health Ranger, editor of NaturalNews.com

"I respect and sincerely appreciate the important job our soldiers do to defend and protect good people around the world. These men and woman need vital, organic nutrition! Not only to ensure optimal performance in the field, but also to protect themselves from the physical and emotional stress that can wreak havoc on their bodies and immune systems."
- Reno Rolle, BokuSuperfood.com